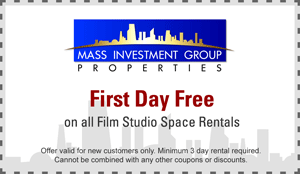 Property Information
Franklin Business Center created a studio space to support your vision - a facility devoted to you, the filmmaker. Today's technological innovations enhance your creativity – it's our goal to provide you with a creative environment that is comfortable, easy and affordable.
For all types of productions - long or short films, commercials, music videos, corporate videos and documentaries, Franklin Business Center has 186.000 sq. ft. of floor space and the flexible studio space necessary to make your project a success. Large Green screen is available at no charge when you rent with us. From big to small, we have it all.
We have Production Office Suites, warehouse space, conference rooms, storage, function space or a large open room (110ft X 145ft and 20ft high to the ceiling) with drive in access available for long or short-term lease.
Our Space - Your Location
Whether film production has begun or you are still in the planning phase; at some point LOCATION ideas will be passed around the table for any shoot, whether it be for the film, TV or stills industry. That's where we can assist you.
Some examples of available space types:
Artist studios
Basement rooms and spaces
Bathrooms
Brick spaces
Conference rooms
Car storage
Corridors
Docks

Farm space
Freight elevator
Garages
Gym
Industrial spaces
Kitchen
Large open indoor spaces

Loft
Mill space
Offices
Stairs
Self storage
Underground corridors and spaces
Warehouse
In the News
Welcome, Hollywood: Another NH company offers locations for motion pictures.
Franklin mill space ready for its close-up, Owner marketing six-story building to filmmakers.
Part of old Franklin mill building being offered for movie-making.